MGSE – Mass Properties measurement system
This equipment is specially designed to measure the Weight, the Centre of Gravity and Moment of Inertia of bodies up to 5 tons.
The measurement system is easy to use: the measure is available in a few minutes. The control software is easy to use and a builtin database allows to store the measures of the bodies and the adaptors. The machine is fully automatic, as baseline proposal.  With this features the maximum accuracy is achieved. Semi-automatic machine are available: the Device Under Test (DUT) is positioned and re-positioned manually on the measuring table (valid for the CoG only. For MoI measurement automatic system is required).
The software allows to perform measurements offline, analizing the measured values of the adapters and the bodies.
All the materials used are comply for clean room ISO8 environment.
The instrument in low profile and suitable for wide range of measurements.
Elital supplies the MoiCoG machines tailored on customer requirements, from 0.1kg up to 10tons. The system is supplied with the calibration dummy mass. Elital is also available to study and supply special adapters and L-Shapes with additional alignment/measuring tools. Please contact us for more details.
Measures:
Weight
Center of Gravity (baseline)
Moment of Inertia (option)
Product of Inertia (option)
Applications:
Space – to measure entire satellites or subsystems.
Aeronautic – to measure wings, helicopter wings, engines, frames, etc.
Automotive – vehicle balancing for new desings and racing cars.
Defence – to measure the mass properties on defence components,
Test Data Report Example: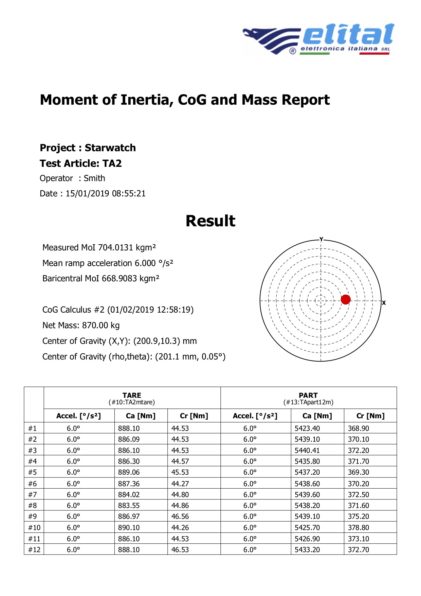 What is the box?
WMoICoG measurement machine system;
Shipment Package;
Sensor calibration at Elital address;
EU Cable;
User and maintenance manual;
High Precision Dummy Mass for CoG and MoI;
Dimensional Test,
Functional Test;
Proof tests;
CE Certification;
Performances:
CoG Rotation Speed                                                                         1rpm
MoI Rotation Speed                                                                         10rpm (arc 90°)
MoI measurement axis                                                                    One axis
Operative Temperature                                                                    22° +/-3°C
Operative Hygrometry                                                                      55 +/- 10%
Operative Pressure                                                                            950 – 1050 hPa
Acquisition Electronic                                                                       high speed sampler electronics (With real time acquisition)
Clean Room Compatibility Cleanliness Level                              ISO8 – Class 100.000
Machine weight                                                                                 20Kg
Installation                                                                                         levelled on a rigid basement (granite table is suggested) or at rigid floor
Main material                                                                                    Stainless Steel
Load Cell type                                                                                   C5
Measure Type                                                                                    Computer controlled and user friendly GUI.
Measuring software                                                                         Included (.exe)
Laptop                                                                                                Included
Power rate                                                                                         220-240 V-AC one phase
Power Plug                                                                                        EU CEE 7/4 16A
Pneumatic system                                                                            4-6 bar of dry air without lubricant at machine inlet.
Anchoring                                                                                         warm suggested
ITAR, EAR:                                                                                       Free