CommuniPack 4000 – Military
The system is a communication platform suitable to support satellite antenna and ground antennas for local communication. The system is military grade, able to be used in extreme environment. Italian Air Force selected CommuniPack 4000 as platform for the communication in airports located in war zones. The Platform is particularly designed to be used for Critical Infrastructures survey.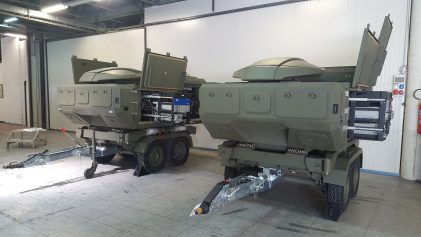 Main Feature:
Length with hook: 4000 (lower position) +/- 100 mm , 3700 (upper position) +/- 100 mm,
Length without hook: 2500 +/- 100 mm,
Height: 2200 +/- 100 mm,
Width: 1950 +/- 50 mm,
Platform Weight: 2000Kg,
Platform maximum weight with equipment: 2700Kg (700Kg. Payload),
Comply with C27J and C130,
Comply with HMMWV, VTLM Lince, Mitsubishi L200, VW Amarok,
Dual Redundant air conditioning system,
Temperature Operative: -19°C to +50°C,
Temperature Storage: -40°C to +71°
Sun Radiation: 75°C on the roof surface,
Altitude: 3000m s.l.m.
Wind: operative 80 km/h (antennas are the limits)
Wind Transport Condition 120 km/h;
hail: 25mm di diametro
Saline Fog: 0.75 (7,5%) ng/m3
Humidity: 100% per 4 ore,
Rain: > 40 mm/h con inclinazione fino a 90°
Offroad Feature:
Frontside: <25°
Frontside under the hook: 15°
Rearside: <25°
Height from ground: >30/35 cm
Frame Characteristics:
Longitudinal: +3,0 G (forward) +1,5 G (aft);
Trasversal: 3,0 G (+/-1,5G);
Vertical: +4,5 G/-2 G
Crash Landing: +4,5 G/-2 G*
Equipment Bays and equipment accommodation
240Kg of equipment in n.2 racks dual bays with 13 rack unit each
160Kg of equipment in n.2 racks single bay with 17 rack unit each
Total rack unit available onboard 86 Rack Units.
Standards and norms:
Direttiva 89/336/CEE – Norma CEI EN61326-1 (compatibilità elettromagnetica)
Direttiva 98/37/CE (73/23/CE) – Norma CEI EN61010-1 (Sicurezza)
Direttiva 89/106/CEE (materiali)
UNI EN 40-3-3 / UNI EN 40-3-1 (prove di resistenza della struttura)
Direttiva 73/23/CEE
Direttiva 94/20/CE
D. Lgs 25 novembre 1996 n° 626
D. Lgs 285 del 30 Aprile 1992 – Codice della Strada
IEC529 – EN60529 – CEI 70-1 Grado di protezione IP
LEGGE 1 Marzo 1968, n.186 (G.U. 23 marzo 1968, n.77)
LEGGE 6 Marzo 1990, n. 46
D.P.R. n.547 del 27/04/1955 (e D.Lgs. 19/9/1994 n. 626, D.Lgs 19/3/1996 n. 242, D.Lgs.
14/8/1996 n. 493, D.P.R.
19/3/1956 n.302, D. Lgs. del 19/12/1994 n.758)
D.M. 10 Settembre 1998 n. 381
1-5: Classification of environmental conditions; Ground vehicle installations
MIL-STD-721C Definitions of Terms for Reliability and Maintainability
MIL-STD-810G Environmental Engineering Considerations and Laboratory tests
MIL-HDBK-1791 Designing For Internal Aerial Delivery in Fixed Wing Aircraft
ASTM 1925-04 Specification for Engineering and Design for Rigid Wall Relocatable Structures