You are here:
Heritage and Achivements
Heritage and Achivements
Elital (the name is Elettronica Italiana) was founded in 1986 and has rapidly expanded its capabilities in the design and manufacturing of complex and multidisciplinary systems, subsystems and complete own products. The fields where our technology is applied are mainly Space and Defence (Homeland Security included) and Industrial application.
Elital srl means:
Personnel focused company;
mix of skills;
internal technologies and industrial processes;
people experiences;
Turnkey systems;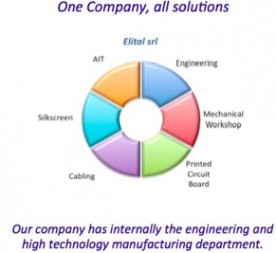 Elital continuously invest in personnel skills and facilities to grow up its expertise, capabilities, markets and to ensure good and reliable products to our customers.
Since its foundation, the strong point of Elital is the design and develop completely in-house, sophisticated and complex systems composed by the combination of electronics and mechanics subsystems.
Here you will find:
Pictures and brief description of our products and Heritage,
Internal own Facilities
Engineering:
 The Data Centre is equipped with n.5 physical Servers running Windows for the infrastructure and domain, and Linux Operative system.
The engineering use updated high performance workstations and software tools:
Mechanical Design;
Radio Frequency Design;
PCB Routing;
Software and Firmware;
SilkScreen, labelling, graphical layout;
Engineering CAM
The Engineering department, and all the company, is under the yearly quality audit from customers and authorized to design, develop and manufacture E-GSE, M-GSE, Space PCB, Satcom and Defence product.

Download here the Elital Equipment List