EnerPack 25KVA
Transportable power plant for:
Civil Protection,
Itinerant Construction site,
Army (Mil Grade type)
ONG,
Transportable Hospital,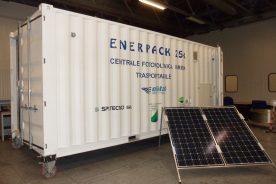 Advantages:
Deployment time 4hr
Air Cargo Compliant
Diesel Generator
Backup Battery pack
Power Inverter
Grid capability
The system is a transportable ISO standard shelter. The solar panels are stored into the shelter. When deployed an office/control room for operator is available.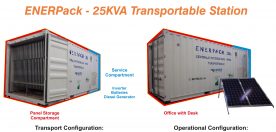 The Enerpack system is suitable for defense application, remote zones, disaster recovery. It is complaint to the EU standards, Mil-Std standard as an option.
contact us for more information