MGSE – Environmental Monitoring System – EMS
The ELT-190-00097-0 "Environmental minitoring system" is data logger for transport systems. It is suitable to record:
Temperature
Humidity
Mechanical Shocks
Magnetic Fields (i.e. for transportation of atomic clock)
Pressure Gauge – Absolute
Pressure Gauge – Differential
ON/OFF
GPS for positioning
GPRS for remote monitoring
The EMS system works on CANBus network. Up to 60 sensors can be attached on the CANBus network.
Central Unit Layout: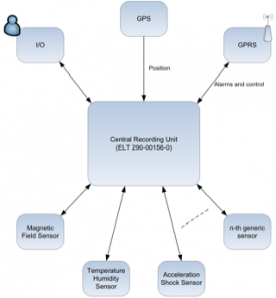 Suitable for:
Satellite transportation
Space Instruments transportation
Art Masterpieces
Military systems
The GPRS connection allows to be warned as soon as happen an unexpected event during transportation. The Decision Maker receive on its mobile phone the event, the parameter out the limits, the position on the map.
The Central Unit system software can be remotely updated by Elital (an internet connection is required).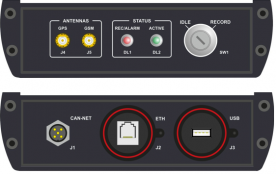 Product codes:
ELT 290-00156-0: Central Unit;
ELT 290-00157-0: Magnetic Field Sensor;
ELT 290-00158-0: Temperature and Humidity Sensor;
ELT 290-00159-0: Acceleration Shock Sensor;
ELT 290-00160-0: ON/OFF sensor;
ELT 290-00161-0: DC Voltmeter (i.e. battery monitoring);
ELT 290-00162-0: AC Voltmeter (i.e. GenSets, power supply);
The system is used for Galileo satellites transportation, and other satellite systems.