ISO 8, 20T, Screw Jacks ELT- 230-01630-0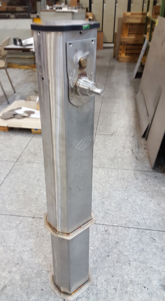 The ISO8 screw jack is mounted on the external side of transport container and Stands, allows the lifting and levelling of the container.
It has a capacity up to 20T with cleanliness level of  ISO8 with compliant lubricant. Choice of a telescopic stroke from 350 mm to 520 mm and different types of foot or wheel. A protection is mounted to avoid clean room contamination, environment and operators lubricant contamination.